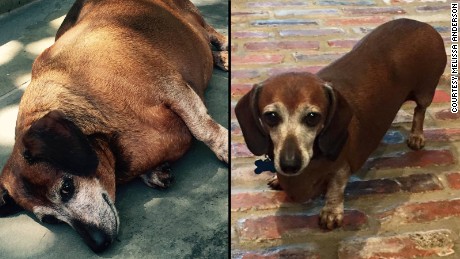 Low carb Diets are not just good for humans as it works for dogs too.
He could barely walk, had high cholesterol and his back dipped from the extra weight, putting him at risk of nerve damage.
There were weekly weighs-in that didn't prove successful, and at one point he hit a plateau. But with the help of his foster mom, Melissa Anderson, and his vet, he was able to power through and lose the weight.
Trying to find out ways to help him exercise, Melissa Anderson used the pool to start him on a water aerobics regime. The water aerobics helps take pressure off Vincent's strained joints.
When the weight started melting off, his ability to participate in longer walks increased. Today, he walks about an hour five to six times a week.
"He loves his walks," said Melissa Anderson. "He waits by the door after breakfast every morning."
Besides losing weight, he has also lowered his cholesterol reading from 286 to 166. Average health range is from 125 to 270, according to Sharon Anderson.
His whole demeanor has changed as well. "He is the sweetest, funniest, happiest guy now," said Melissa Anderson.
Eight months ago "Fat Vincent" tipped the scales at 38 pounds, he was unhealthy and depressed. Today, Vincent weighs in at a lean 17 pounds.
Vincent's weight loss challenge isn't over. He still has a pound and a half to reach his goal weight. But once he does, he will be ready for adoption.
"The perfect home will continue his daily walks and the monitoring of his food," said Melissa Anderson. "Most important is having lots of love to give!"
Read more: https://lowcarbblab.com/
&nbsp